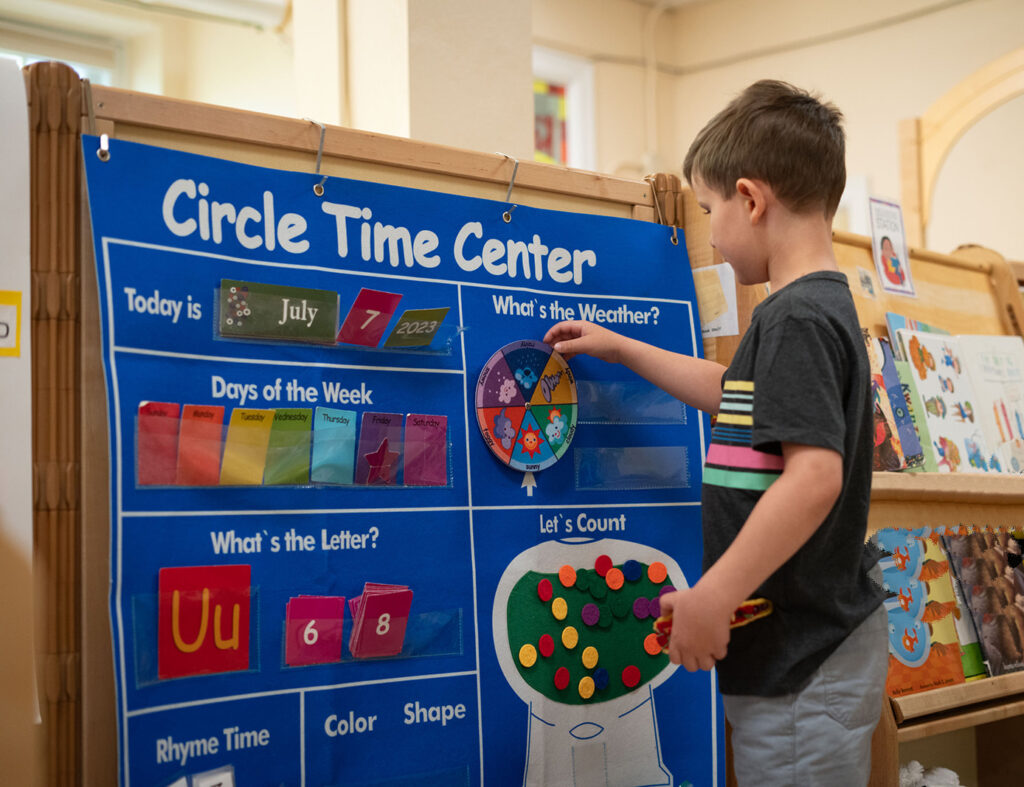 Various members of our professional staff have been with KinderHaus over the past 3-22 years! This consistency allows families peace of mind throughout the day knowing that their child is safe, loved and being taken care of as if they were our own, because when your child is with KinderHaus, they are!
Child-to-Staff Ratio

Our children are supervised at all times, receiving as much individual attention as possible. Caregivers and teachers are given scheduled breaks on a rotating basis to help ensure they are always energetic and attentive.

Age
Child/Staff
Ratio
Maximum
Group Size
0-24 months
1/4
8
24–30 months
1/4
12
30–48 months
1/8
16
48–60 months
1/10
20

* Classrooms for 3-5-year-olds are always staffed with two teachers.
Staff Qualifications

Our staff are hired in compliance with state requirements and qualifications as a base minimum. Typical staff certifications are:

| | | |
| --- | --- | --- |
| Position | Education/Certification | Experience |
| Teacher | Associates Degree in Early Childhood Education OR Associates Degree with at least 24 semester credit hours in Early Childhood Education | 2 years |
| Teacher Assistant/Aide | Child Development Associate Credential | 1 year |
Background Checks

All staff in licensed District of Columbia child care facilities are required to participate in drug and alcohol testing and a criminal background check. Our staff undergo:

FBI Criminal Background Check
Metropolitan Police Department Criminal Background Check
Child Protection Register Check
Drug and Alcohol Testing

The District of Columbia mandates the Child and Youth Safety and Health Act of 2005 (CYSHA), also found in Chapter 39 of the D.C. Personnel Manual, also found in OSSE Regulation 313.3 (e) for every licensed center of school.
Continuing Education

KinderHaus is committed to raising the bar for education and innovation for our teachers, while embracing technology and finding new ways to enrich the curriculum so that children fully enjoy their first formative years. Every member of the staff strives to provide experiences that parents and children will remember fondly in the years to come.

Every member of our staff is certified in pediatric first aid and CPR and completes courses in all these areas of continuing education annually:

Child abuse and neglect, prevention, detection and reporting
Prevention of shaken baby syndrome and abusive head trauma
Identification, approach and referral to appropriate support services students who show signs of psychological distress

Emergency preparation and response planning for emergencies resulting from a natural disaster or human-caused event
Prevention of and response to emergencies due to food and allergic reactions
Pediatric first aid and CPR

Developmentally appropriate programming for infants, toddlers, preschool and/or school-age children
Building and physical premises safety, including identification of and protection from hazards that can cause bodily injury

Prevention and control of infectious diseases, including immunization
Poison prevention, including the handling and storage of hazardous materials and appropriate disposal of bio contaminants
Administration of medication, consistent with standards for parental guardian consent
Prevention of sudden infant death syndrome and use of safe practices
Amenities Furnished at KinderHaus

Personalized crib (for infants) or cot (for children)
Cubby for extra clothes
Refrigerator space for baby bottles and food
Kitchen shelf space for nonperishable foods
Bottle warmers
Microwave to warm lunch items
Snacks and meals (including options for allergies and dietary restrictions) for children over age 1 from Good Food Company
Strollers
Daily laundering of sheets and blankets
Birthday parties (including cupcakes and party hats)
Lessons in Spanish and music when public health conditions permit
Brightwheel App

Brightwheel is an easy-to-use mobile application our parents may download for many convenient interactions with KinderHaus, including applying for admission. Each enrolled child has a profile that includes teacher observations, photos and videos, as well as developmental milestones that are recorded and linked to D.C. Early Learning Standards.

Additional Brightwheel features include:

Touchless daily check-in and check-out via QR code and digital signature
Quick daily morning COVID-19 checklist
Monthly lesson plans you can follow daily and discuss with your child
Secure messaging to/from teachers and administrators
Seamless uploading of required health forms and vaccination records
Upcoming vaccination reminders
Convenient payments to KinderHaus via check or credit card
Accessibility to statements, invoices and tax documents
Waitlist status (as applicable)