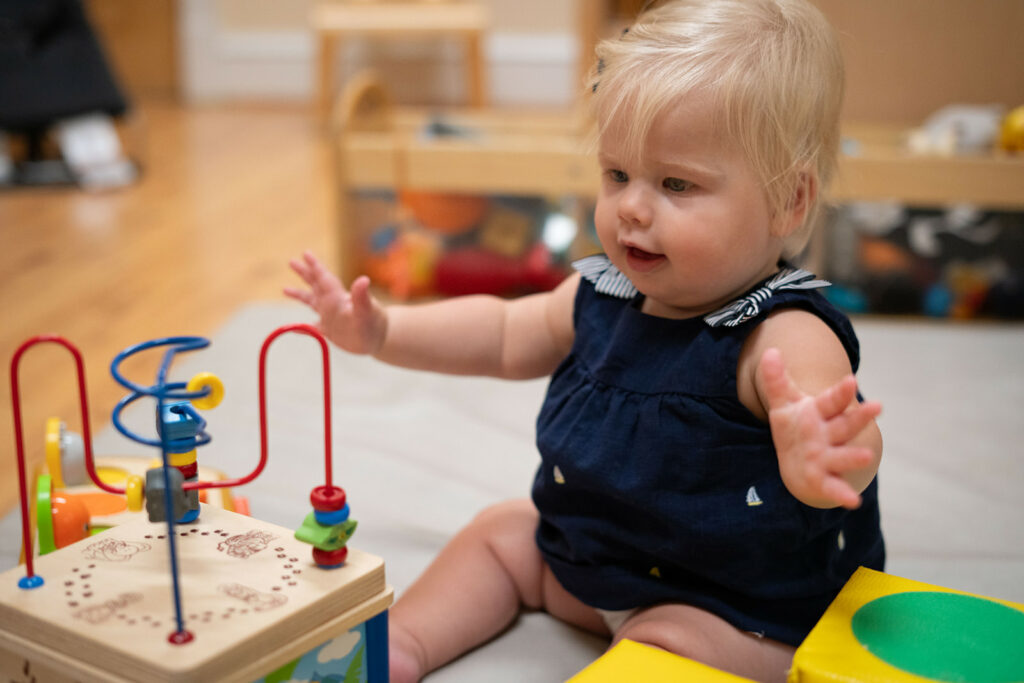 KinderHaus' curriculum was developed by Kinderhaus Director Anne Marie Linn. Anne Marie is our Curriculum and Instructional Specialist with a degree in curriculum and instruction from George Mason University. Our curriculum implements D.C. Early Learning Standards and is combined with the Teaching Strategies Creative Curriculum and has been curated for use by the entire facility. Each month has a theme, which may incorporate holidays, current events and KinderHaus traditions, and all materials used are age-appropriate. You can find your child's monthly curriculum in our Brightwheel app.

Our approach to teaching at KinderHaus is ensuring that each child's needs are met through a child centered approach. . 

At Kinderhaus we believe the child is the curriculum! Our teaching philosophy strives to meet each child's needs through a child centered approach. We encourage each child to engage in areas of individual interest in conjunction with a teacher led scaffolding learning model approach throughout the day.

Each month Kinderhaus implements an overarching theme learning each classroom expands, engages and challenges each child to ensure developmental milestones are met. Each center within the classroom adopts the theme for the month in various age-appropriate ways. Purposeful materials are made available to engage children in beneficial and meaningful learning experiences. Teachers provide independent child- directed play each day while also encouraging a teacher-directed activity. All activities throughout the day promotes participation from each child, and each activity has been specifically selected and structured for varied development. Children are actively observed on a daily basis to ensure developmental needs are being met and activities differentiated to meet that need. Materials in the classrooms are rotated each month to allow for in depth play experiences. 

At the end of the month each classroom will participate in a composer, inventor, author and cooking series.* 

*Only the preschool program is eligible for the cooking series.
Overall Development

We follow the teachings of Jean Piaget (1896-1980), a Swiss psychologist renowned for his work in child development, who believed that a child learns best through play. In a play-based child care center you don't see worksheets, desks or children sitting for long periods. Instead, all our rooms have eight main areas: art, science, blocks, language, housekeeping, manipulatives, music and gross motor. These spaces become more defined for our preschoolers.

Play provides active exploration that assists in building and strengthening brain connections. When children play, they explore the world, develop and expand social, language and gross/fine motor skills, experiment with new ideas, build a sense of confidence, think and express themselves and develop a sense of self.

Our curriculum is designed to enhance children's development in:

Creativity
Self-expression
Decision-making
Problem-solving
Responsibility
Independence
Reasoning

We encourage openness to that which is different from us, and the ability to work and play with others.
Infant Program

Our infant caregivers work with your family to devise complementary schedules so that your infant can make seamless daily transitions between home life and KinderHaus.
Toddler Program

Our toddler program begins with a transition from the infant program and lasts until your child is ready for our preschool program. This program provides an enriched environment to encourage growth in developmental milestones. Activities build upon each other to challenge and inspire your child's love of learning with fun real-life experiences.
Preschool Program

We prepare your child for elementary school with a mix of small and large group activities, both student-led and teacher-directed. Circle Time is a daily place for children to work on the alphabet and new words, math concepts, literacy and language development, and social skills.

Children in our toddler and preschool programs learn about composers, authors and inventors and may participate in craft and cooking projects.
Sample Curriculum

This is a sample week of activities and experiences for our Friendship theme

Learning through play

Library- display and read books about friendships

Dramatic play- highlight family accessories and toys

Blocks- Encourage families to bring in photos of the outside of their house and tape to the blocks, print pictures of familiar landmarks within our community (kh front door, backyard, strollers)

Music- 5 good friends song

Science/ discovery- Encourage families to bring in a photo, laminate each family photo and bury under the sand for a special treasure hunt

Manipulatives- Leave out three levels of manipulative for exploration, encourage engagement during free play times to assess what level each child is at.

Art- Encourage your class to explore the various materials in the art center; paints, crayons, markers, watercolors, stamps, etc.

Writing table- Encourage your class to write letters to their peers. Could read letters written to others during a transition time or they could give the letters to each other to take home.

5 good friends song-

Encourage your class to help you count how many friends are out to play before beginning the next verse

1 good friend went out to play – go stand on another carpet

on a hot a sunny day

she had such enormous fun

she called for another friend to join her fun- encourage the child to call a friend to join her

repeat the song until there are 5 friends on the opposite carpet

Pass the Ice Cream

Encourage your class to sit in a circle, give each child an ice cream cone, ask the children to pass the ice cream (small ball) into each other's ice cream cone.

I'm gonna like me (small group)

Read the book I'm gonna like me, encourage engagement into the book by asking leading questions while reading

Heart Patterns- (small group)

draw a heart on paper and encourage your students to trace the line using dot markers in pattern form. i.e. red, blue, red, blue, etc.

What's that smell? (small group)

Pass the bags around and encourage your group to smell what's inside. Allow your group to take their time to smell the bag and explain they are using their sense of smell to determine what's inside. Give your group a few options to guess which smell it is.

Kindness links us together–

Explain to your class that you will be observing their interactions with each other and each time you see an act of kindness, you will write it down to create a kindness link chain.

Friend-A-saurus

Draw a dinosaur on a large piece of paper, encourage a discussion about friendship and how friends behave towards one another.

Letter Ss activity–

today we are going to create a snake! Encourage your class to decorate (paint, watercolor, marker, crayon, etc.) and cut out their snake ( if able) then hang the snake from one end to display their fine art work.

Friendship role play

Pass out two children puppets, and ask for two volunteers. Explain various social situations and encourage the two children to role play how to solve the problem. Social situation ideas: take turns, saying please and thank you, share, listen and keep your hands to yourself.

How tall am I? (small group)

For this small group activity you are going to encourage your children to explore measurement. Explain there are many things we can measure around the classroom but today, we are going to measure each other. Use a measuring tape and ask your small group to get into partners of two. One child will lay on the floor and the opposite child will measure. Once they have determined how tall the child laying on the floor is, ask them to work together to cut a piece of yarn the same length. Finally encourage the partners to switch places and again cut another piece of yarn. Have each child label their piece of yarn by writing their name on a post it note. Tape each piece of yarn and post it to the wall.

My fingerprints are unique (small group)

Hand out magnifying glasses and encourage your small group to look closely and their fingers. Encourage your group to push their fingers into the stamp pad and push onto the paper. Again, discuss what their fingerprints look like now that they're on paper. Encourage them to look at their peers fingerprints and determine the differences between both.

Kindness postcards- (small group)

In this small group activity, you will encourage your students to create a card for another child in the class. Depending on level, determine how much of the card each student will write; for example you may sound out each word, have the student trace the letter, or fill in the blank. Leave this activity out for completion during learning through play times.

Stick and stone

Before reading, ask your class to look at the cover and discuss what they think the book might be about. While reading, emphasize the actions of stick, stone and pinecone. Make sure to point out problems in the story and point out how the characters work together to solve problems. After reading; ask which character wasn't being a good friend? What happens after stick gets stuck in the mud?

Write a word for the letter Ss- Prepare this activity by copying enough word of the week paper for each child. Pull out markers, crayons and colored pencils. Write a word for the letter of the week (each child can choose their own word to use) at the top of the paper. Encourage your students to write, trace, or sound out the word dependent upon ability level.

Cooperation Island Game

Create an island on a carpet using blocks to outline three squares or two rectangles. Play music and explain that once the music stops, your class will need to work together to get everyone on the island. As you continue to play the game, take away a square or rectangle and continue to encourage your class to work together and get everyone inside the shape at the end of the song.

Friendship salad

Today is our cooking project day, you could split your class into groups so as to encourage independence while cutting ingredients. Identify helpers to cut strawberries, bananas and pineapples. Once the ingredients are cut, gather your class and explain that your classroom works like a big fruit salad. The bowl is the classroom and that there are many important things your classroom needs- things like good friends and happy days at school.

Strawberry slices- this fruit represents the students that are good helpers and friends inside and outside of the classroom.

Banana slices- these are the hard workers that always try their best in everything they do.

Pineapple- these are the kind and encouraging words we say to each other each day.

Mix it up and pass it out for snack time! Eating the fruit salad is the happiness we feel when we are at school

Mirror Play– Give each child a play mirror and ask your students to make various faces, encourage your students to then label their faces that they make while playing with the mirror. Talk about ways to manage their feelings when they are feeling a specific way; mad- cozy corner to take a deep breath or breathe in the rose and blow out the candle, sad- ask for a hug or cuddle a stuffed animal, frustrated- ask for help, happy- jump for joy or ask a friend for a high five.
More Curriculum Features

Naptime

All children at KinderHaus are given the opportunity to take one or more daily naps. All beds are positioned according to CDC guidelines for COVID-19 prevention.

Infant to 15 Months – Each infant has their own labeled crib — no sharing. District of Columbia law prohibits blankets, bumper pads, toys and mobiles inside infant cribs, so they are not used. We follow your home nap schedule as closely as possible.

Toddler to Preschool – Children have their own labeled cots — no sharing. Teachers signal when it's naptime by turning the lights off, speaking softly, and playing soothing classical music.

Outdoor Playtime

The District of Columbia requires children to have daily outdoor time. Weather permitting, all KinderHaus children go out every morning and afternoon.
* Cold: We stay indoors if the temperature, including wind chill, drops to 32 degrees or lower.
* Heat: We stay indoors whenever D.C. implements its heat advisory protocol and on Code Red Air Quality days. If possible, we go outdoors on Code Orange Air Quality days on a modified schedule.

Family Activities

Family is a child's first teacher, so we are proud to be your partner in your child's growth and development. We encourage you to be involved by visiting our classrooms, participating in events, and providing feedback and suggestions. We offer a wide range of family events, adult workshops, classroom activities and adult planning committees to foster adult participation.*

Sign Language

KinderHaus teachers use sign language in our classrooms. Sign language helps infants communicate with less frustration what they want or need before they start using words. We simultaneously use signs with spoken words to aid verbal development.

Developmental Screening

KinderHaus uses the Ages & Stages Questionnaires, Third Edition (ASQ-3), as a screening tool to assess developmental progress in children between the ages of 1 month to 5 1/2 years.

The developmental screening process is collaborative. It involves parents/guardians and is done in conjunction with the child's primary care provider and health, education and early intervention consultants. KinderHaus partners with D.C.'s Strong Start for children under 2 and D.C.'s Early Stages for children 2 and up for those who need early intervention.
Meals

KinderHaus provides snacks and meals (including options for allergies and dietary restrictions) for children over age 1 from Good Food Company, a family-owned business in Arlington, Virginia, which sources from local farmers. It meets USDA Child & Adult Food Program Guidelines.
All children 1 year and older will receive a breakfast, lunch and an afternoon snack daily, which are included in your monthly tuition.

Lunch Menus

Breakfast & Snack Menus
Music Enrichment

We partner with Music Together as an enrichment program that's included in tuition.